Welcome to the JAZZSCORE home page.

Please click on the links provided to access the official websites of New Zealand artists
Alloy
,
Bluespeak
,
Bongo Nation
,
Cosa
, the
Inner City Jazz Workshop
,
Tom Ludvigson
and
Trip to the Moon
.
TRIP TO THE MOON
NEW ALBUM RELEASED 2012 ON JAZZSCORE CD
THE INVISIBLE LINE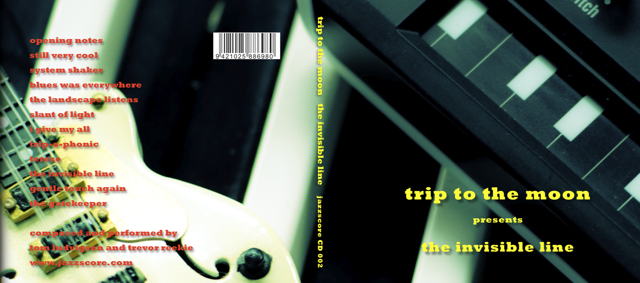 * REVIEWS

Graham Reid, Elsewhere:
'Here jazz, lounge, world music, imagined soundtracks and contemporary art music meet, and the genre-denying music alludes to much more through sonic samples, ambient passages, beat-driven trip-hop...Yes, a real trip, and any line between genres is invisible.'
Read the whole review

Miss Jukebox, Muzic.net.nz:
'…an experimental supernova, with moments that burst into a jazz-electronic heaven.'
Read the whole review

Gary Steel, Metro Magazine:
'…from slinky virtual jazz, imaginary cinema-noir, ambient soundscapes and retroactive space-age synthesis…it's a perfect Sunday afternoon pause.'
Read the whole review


* THE TRACKS

opening notes
A short orchestral overture to the album, featuring strings and tympani with a wailing monosynth solo by Tom towards the end, leading into the next track.
still very cool
A groove put together by Tom with Jim Langabeer contributing on saxophone.
system shaker
The famous line "I know how the system works. I'm against the system" is a quote from a former Swiss banker who passed on data containing account details of 2,000 prominent people to Wikileaks' founder Julian Assange. The data was held on two discs handed over by Rudolf Elmer at a press conference in London. Mr Elmer is on trial in Switzerland for breaking bank secrecy laws. The Wikileaks websites is a defining website that endorses the belief that we are indeed living in the future. This track evolved from a rhythm loop created by Tom, and a guitar part that Tom recorded unbeknownst to Trevor, who was jamming along whilst looking for a guitar sound - it ended up being the final performance.
Also featured on this track is a bass sample from Peter Scott - a frequent contributor to Trip to the Moon CDs in the past.
blues was everywhere
T
his a line delivered by jazzman Mose Allison in a Radio NZ interview. Mose was not only known for his skills as a pianist, but also his way with words earned him the reputation as "the William Faulkner of jazz". The track went through a number of rewrites before the final mix. It features the ever excellent Nigel Gavin on glissentar, a fretless twelve string cross between a guitar and an oud. The track was then emailed to Greg Johnson in Los Angeles who blew the trumpet contribution in his home studio and emailed it back. Greg has contributed regularly to Trip to the Moon albums. Greg sang and played trumpet in Tom's band Bluespeak, whilst Trevor was a member of Greg's band for ten years, playing on four of his studio albums for Pagan and EMI.

the landscape listens
This is actually three different compositions condensed into one. The slow section came about from Tom playing an Erik Satie type ambient piece with Trevor providing samples from sources he refuses to reveal… it was then shaped with a wall of ebo guitars from Trevor and later Nigel Gavin contributed an awesome glissentar performance that just nails it together.
slant of light

Originally conceived as a film music cue, this track showcases the versatility of the band-pass filter as a tool in analog synthesis...


i give my all
This one is dedicated to the Tahir Square protests in Egypt. The voice sample in this track comes from the late Harry Beckett. A wonderful jazz musician. The oud contribution was played by Haitham Mazyan.
trip-o-phonic
This is the first completed track made for this album. It features a twelve string acoustic riff from Trevor, some dazzling jazz runs from Tom and a percussion track provided by Ian Chapman aka Dr Glam. Ian is currently a lecturer on Otago University's Contemporary Music course. His passion for all things percussive led him to the hang (pronounced hung) drums...

terese
A languid piano composition from Tom with Trevor contributing an FX track with his Indian Raagini and oddball noises.
the invisible line

Eleven string acoustic tuned into an open Dm sets the tone for a composition put together by Tom and a unique sopranino sax contribution from Jim Langabeer.
gentle touch again

An short ambient piece rescued from a film project - too expressive to leave out of the current showcase.

the gatekeeper
The basic riff for the track came from a line played by Trevor on one of Tom's ukuleles. It grew from there including some stellar melodica played by Tom. Ask Trevor about this track and he will tell you that it sounds the closest riff to a Car Crash Set song that he's played since he left Car Crash Set.